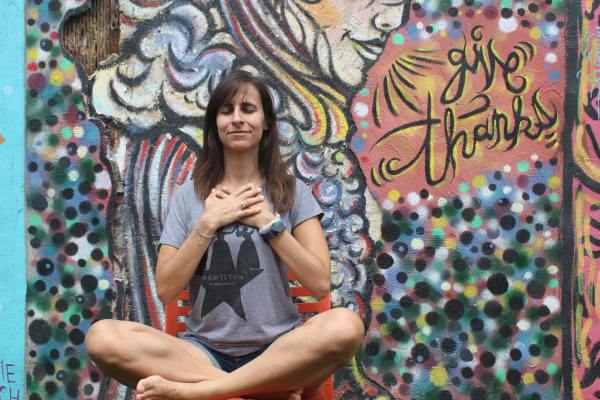 Before I started working with Joanie, I wasn't feeling like myself. I was far from being the best version of "me." Joanie helped me identify areas of my life that needed adjustment. Together we developed a plan with small, reasonable goals. I worked hard to reach them and she cheered me on along the way. What I found to be magical was her approach. Her guiding questions and sensitive observations enabled me to find all of the answers within. She has taught me an invaluable lesson- if I stop what I'm doing, take a deep breath and close my eyes, the "me" that I'm searching for is right there.
I have been doing yoga for 15 years and Joanie is hands down one of the best teachers I've found. I took her yin yoga class and it was a perfect blend of meditation and deep stretching. I felt wonderful for the entire day. Joanie is deeply knowledgeable about the human body and spirit. She is also profoundly generous, caring, and patient with her students. Love love love Joanie and her teachings!
Joanie is an authentic person and it dictates her style as a hypnotherapist. She was fully present with ME, not preoccupied with her goal to create the optimal hypnotic dialogue. She did not rush forward, but instead stayed with me and only progressed through our session plan as she witnessed me relax further into the experience. Afterward, she took time to help me reflect upon and assimilate the experience. I felt completely at ease with her the entire time.
I came out of my hypnosis session with Joanie feeling more relaxed than I had in months. She helped me understand what to expect and what not to expect, and made the whole process understandable for a first-timer.
Joanie's "A Pause Amidst the Chaos" retreat offered me a much-needed recovery space. I arrived overwhelmed and beat-down by my inner critic, feeling totally un-grounded and hard on myself. Joanie created a container of healing gentleness that allowed me to just be, as I am. In just a day and a half, I felt closer to my center, with a renewed commitment to integrate the practice into my daily life.
If you're interested in learning about mindfullness and meditation, I can't think of a better way than a retreat with Joanie. I had been wanting to learn to meditate for years, and couldn't quite figure out how to take the first step. A weekend retreat with Joanie was perfection: stress melted away, I learned some meditation techniques, and I slept like I haven't slept in years. The retreat was a few months ago, and I can honestly say that I've used what I've learned every day. What I learned with Joanie has helped me be a better mom. It's helped me through divorce, job transitions, moving across the country, buying a new home – when the stress builds up I use the skills that Joanie taught me to just breathe. When my kids are feeling all of the feelings of these hard transitions, I hold them and we breathe together. I feel their bodies relax, and it doesn't matter that I sometimes don't know what to say. Joanie's instruction is accessible, simple, caring, peaceful, and insightful. I'm so grateful for her influence on my life.